Back to list
10 reasons to download PopChar character map
1. Download reason one
Simply put, PopChar is a character map that will make your life easier. This powerful application lets you insert a wide variety of characters and symbols with just a few clicks of the mouse. When you download this character map, you'll no longer have to memorize keystrokes and complicated codes when you want to insert foreign characters - PopChar will handle it all for you.
2. Download reason two
PopChar handles a wide variety of different languages. If you need to be able to insert a few words in Hebrew, use French accents or German umlauts, download this character map and discover how much time you will save. PopChar can insert Spanish characters, Cyrillic characters, Arabic characters and much, much more.
3. Download reason three
This character map will make your correspondence seem more professional. You'll no longer have to emails customers (or friends, for that matter) and write their name incorrectly. If their surname is Häggström, PopChar can handle it. If their first name is Hélène, it won't be a problem. When you download PopChar, you can easily type characters that don't appear anywhere on your keyboard.
4. Download reason four
Downloading this character map will save you time. With standard character maps, finding and inserting the character you're looking for can take a while. With PopChar, you simply click and insert - before long, you won't believe how long-winded the process used to be before you downloaded our character map!
5. Download reason five
This character map also handles HTML characters. This makes PopChar very useful for anyone who frequently edits web pages with a plain text editor. You simply select "HTML" in the Settings menu, and many of the characters that you need in web pages will be displayed. Downloading this character map will make your work significantly easier!
6. Download reason six
The PopChar character map supports Unicode, too, with thousands of characters available in many fonts. You can easily navigate through the Unicode characters by scrolling, or use the special Unicode category menu to jump to a certain section.
7. Download reason seven
PopChar is unobtrusive, yet easily accessible at all times. When you download and install this character map you will see that it runs in the background, appearing only as a small "P" in the system tray. Whenever you need to insert a character, just click it with your mouse or activate with a hot key defined by you.
8. Download reason eight
This is a character map that is designed with common sense. PopChar excludes commonly used characters, because it correctly assumes that you are more likely to be interested in inserting unusual letters and symbols. It also highlights recently used characters, making it easier for you to find characters that you use often.
9. Download reason nine
You're downloading a character map with a proven track record. PopChar has been around for almost a decade, and has countless satisfied users all over the world. It remains a dynamic, up-to-date product with regular additions of new features and improvements.
10. Download reason ten
PopChar is available for both Mac and PC users! Read more about the Mac version or the Windows version of PopChar here!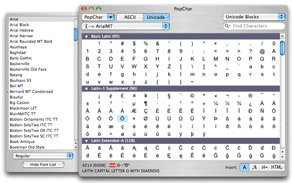 Download.com gave our character map five stars! This is what they said: "This product is amazing! how many times have i been looking how to insert that one special character like: "Ñ" Well no more timewasting! I can just click on the start-up icon and choose the character i want in mere seconds! I love this program!!!"
We are confident that we have convinced you that PopChar is the solution you're looking for - so go ahead and download our character map straight away!
Special Characters at your fingertips with PopChar
It has never been easier to find and type special characters. PopChar is available for Mac and Windows.