Back to list
TrueType fonts and PopChar
What is TrueType?
TrueType is the font technology that is used by both Apple and Microsoft in their operating systems, and it is available in a wide variety of different styles. TrueType fonts offer the highest possible quality both for printing and for on-screen display - so if you're running Windows or Mac OS, chances are that the text you're reading right now is TrueType.
How does TrueType work?
Different types of font technologies differ from each other depending on the way the glyph for each character is stored in the font file. With TrueType fonts, each glyph is a collection of line and curve commands as well as a collection of hints. The line and curve commands define the outline of the bitmap for a character. The hints help the TrueType engine to produce clearly readable shapes on the screen with smaller font sizes. TrueType fonts come in a variety of different file formats. The first is identified by a .fot extension and contains a short header. The second has a .ttf extension and contains the actual font data. On a Macintosh, a TrueType font file is sometimes referred to as an SFNT; on Mac OS X, TrueType fonts typically have the extension ".dfont"
A brief history of TrueType
TrueType was first released by Apple Computer Inc, in 1991, and was the creation of lead engineer Sampo Kaasila. Microsoft first included TrueType in Windows 3.1 in 1992, with a set of fonts that are still among the best-known in the world - Times New Roman and Arial. However, it was not until the arrival of Windows 95 that TrueType fonts became as complete and reliable as they are today.
How can PopChar help me with TrueType fonts?
PopChar is a user-friendly character map that lets you insert characters and symbols from all installed fonts into your documents - no matter what application you're currently using. There is no need to search for and remember different keyboard combinations. All you need to do is open up PopChar and click on the desired character.
PopChar Win shows color icons in the font list to help you distinguish between TrueType, OpenType, vector and raster fonts, ensuring that you always use the correct font for your document. It's also useful for a variety of different languages - PopChar can insert Hebrew, Arabic, German, Spanish and other language-specific TrueType characters.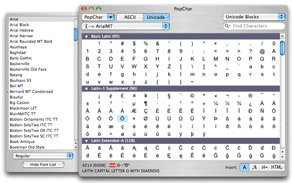 Read more about the Mac version or the Windows version of PopChar here!
Special Characters at your fingertips with PopChar
It has never been easier to find and type special characters. PopChar is available for Mac and Windows.