Back to list
Chinese letters - how to type Chinese letters on your computer
Chinese letters on your computer
You've landed on this page because you're interested in writing Chinese letters. The first thing you need to know is that there are no Chinese letters - not strictly speaking, anyway! The Chinese writing system is very different from the alphabetic system we use in the West, which connects written symbols with certain sounds. Because of this, there are no Chinese equivalents of the letters A, B, C and so on.
The Chinese system is based on words rather than sounds. The Chinese letters are called hanzi, and originally there were separate "letters" for each word in the language. There was one letter for dog, one for fish, one for house, and so on.
It's easy to see why this system, which some say is the oldest in the world, has resulted in the enormous number of different Chinese letters that exist today. Some dictionaries list as many as 60,000 letters, although only about 4-6,000 of them are in daily use. Compare this with the fact that the average Western alphabet only has between 30 and 40 letters, and you start to sympathise with Chinese school children!
Modern Chinese has moved on from the one-word-one-letter system, and nowadays most characters represent a syllable rather than an actual word. Most Chinese words consist of two or more syllables, and so require two or more symbols to write.
So, let's say you want to write a letter or an email in Chinese, or perhaps just type your own name in Chinese - how do you type Chinese letters on your keyboard? The answer is complicated, because there isn't one definite system. Most Chinese computer users type using a standard Roman alphabet keyboard (like the one you're probably using right now), and write all the words the way that they sound. "Beijing" for the capital, "ré"; for a person, "quánguó" for the nation, "mù" for eye, and so on, all according to a strict spelling system known as Pinyin.
Once they've typed the word, the computer automatically converts it into the correct Chinese letter, which appears on the screen (at least in theory - the system doesn't always work).
Older people sometimes use an electronic writing tablet instead, as this enables them to write with the precise strokes they are used to.
As you can see, typing in Chinese isn't particularly easy. Fortunately, there's a far easier system for those of you who simply want to insert a few Chinese letters into a document or an email: PopChar.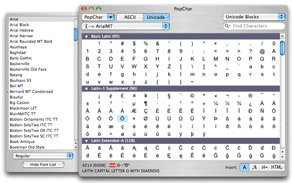 This easy, user-friendly character map lets you insert Chinese symbols with a quick mouse click - and it works with all your applications. Whenever you need a Chinese letter, PopChar is there to help. Click the little "P" box in the system tray to display a table of letters. Select the desired Chinese symbol and it instantly appears in your document.
PopChar is useful for other things too! You can insert characters for many other foreign languages, Unicode, HTML and more, and it is easy and intuitive to use.
Read more about the Mac version or the Windows version of PopChar here.
Special Characters at your fingertips with PopChar
It has never been easier to find and type special characters. PopChar is available for Mac and Windows.