Back to list
Free fonts for your work
Different purposes need different fonts
These days most of the paperwork is done on computers. As there are different application areas, many different fonts are required. Engineers need other characters than physicians or artists. Mathematicians require fonts containing mathematical operators while astrologers need to insert signs for celestial events. And what can a physician do to write medical evidence or an architect to insert Ancient Egyptian Hieroglyphs?
Find the font with the characters you need
So there's a huge number of different fonts for different application areas. But it's not only the abundance of fonts, which you can barely overlook; most of them are also containing thousands of available characters and it's hardly imaginable to access them all with your keyboard.
Before you can use the characters in a font, you must download the font and install it on your computer.
Download free fonts
When you search the web, you find a lot of fonts for download. There are many sites out there offering free fonts to download for Windows and the Mac alike.
You can download many free fonts from 1001 Free Fonts, Website Planet, FontSpace, Creative Bloq, and Website Planet. Google also offers a huge font collection, which you can use as web fonts, but also dowload in TrueType format.
Please note that these sites are not related to us in any way, and we cannot guarantee for the quality of the fonts or even for the terms of usage. Make sure to read and comply with the licensing conditions of the particular site.
If you can't find the needed symbols in any free font, you may want to look at commercial sources, where you can purchase fonts online for a modest fee.
PopChar - explore and use free fonts
Unfortunately, finding a site where you can download a font is only the first half of the solution. Most of the downloaded fonts come with thousands of characters and signs and it's not easy to explore all the characters of the font, and particularly to insert those characters into your documents.
That's where PopChar comes into play. PopChar lets you get the most out of your fonts by letting you view and insert all characters and symbols from all installed fonts into your documents - no matter what application you're currently using. There is no need to search for and remember different keyboard combinations.
All you need to do is open PopChar, click on the desired character and it instantly appears in your document. It gives you quick access to all characters of all fonts, even those that cannot be generated from the keyboard.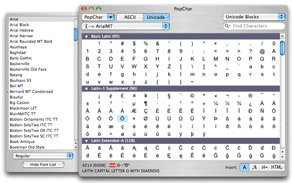 Read more about the Mac version or the Windows version of PopChar here!
Special Characters at your fingertips with PopChar
It has never been easier to find and type special characters. PopChar is available for Mac and Windows.