Typinator
We proudly present Typinator 9
Typinator 9 comes with a fresh and modern interface that is designed to enhance your productivity and speed up workflows by never typing the same thing twice.
Insert text wherever you want with just a few keystrokes
Use our predefined abbreviation sets or define your own, custom abbreviations to save time and increase your writing efficiency with boilerplates! Share your sets with others. Ensuring a clear corporate voice has never been easier for companies.
Explore all features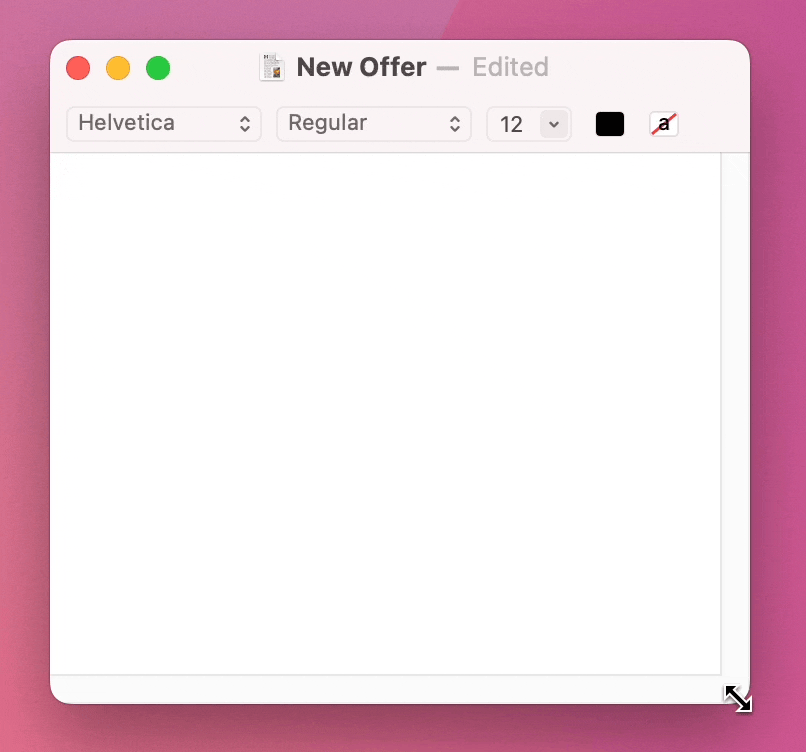 Write high-quality texts without mistakes
The handy feature automatically corrects your texts as you type away to ensure high-quality texts. Want to make sure you (or your coworkers) never misspell certain names or terms? Add your own, company-specific or personal, corrections to the tool!
Explore all features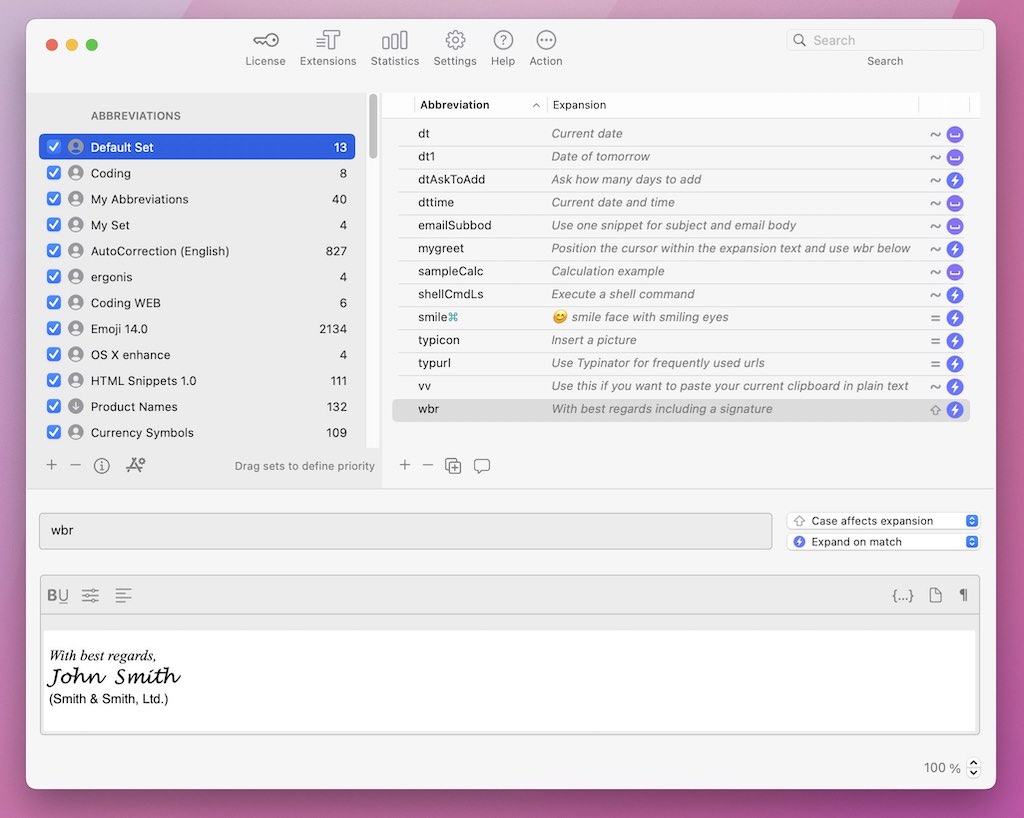 More than just boilerplates
Typinator allows you to enter any kind of boilerplate—and so much more: names, dates, formulas, variables, images, calculations, code, etc.. The best part? All features work system-wide, across all programs and applications.
Explore all features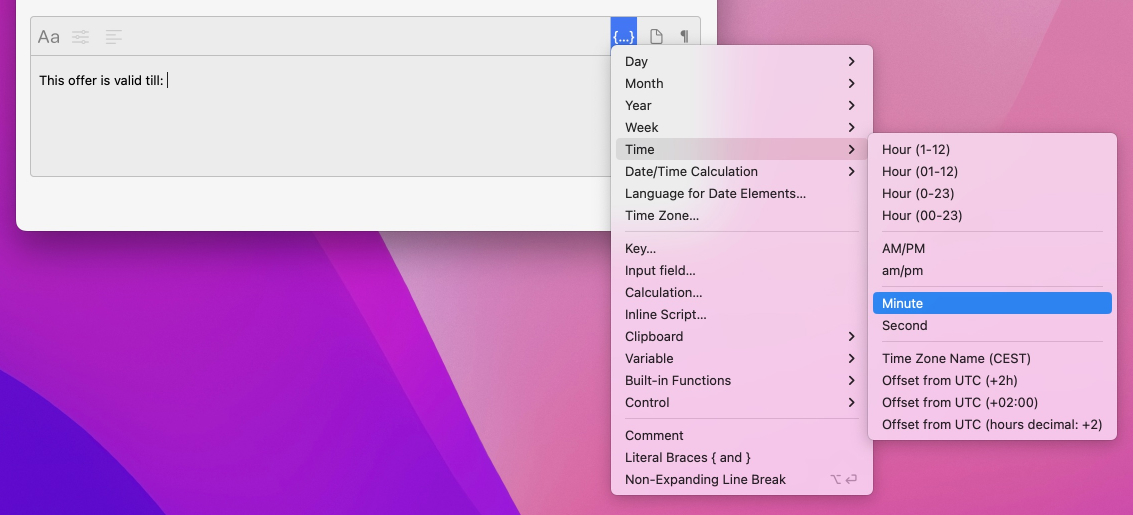 Built for all kinds of teams
Writing emails and follow-ups with common greetings, signatures, and phrases to ensure a clear corporate voice
Responding to common inquiries quickly and easily with pre-written responses
Providing help with step-by-step instructions and common troubleshooting solutions
Gathering customer information to better understand problems with commonly used questions
Handling multiple languages with pre-written responses in different languages
Want to see Typinator in action?
What our customers say
As a former TextExpander user, I switched to Typinator and I couldn't be happier with the switch. I wouldn't consider myself a power user, but Typinator never failed on me, while Textexpander had few issues and unpredictability.

Aside from Safari and Mail, Typinator is the most frequently used program on my Mac. Thank you for the great products.

Courtney Cater

Austin, TX, USA

Thank you very much for Typinator! Obsessive as I am, I tried all text expanders for Mac under the sun, and I've chosen Typinator. For MANY good reasons. Thank you for all your attention to detail, and for being a perfect software company in constantly updating your products. After many years, still a faithful Typinator user.

Andre Pinheiro

CEO at Lanch LLC

I cannot live without Typinator - in fact, scary enough, sometimes I find myself writing the shortcuts on paper instead of what I really mean!

I just got my copy of Typinator, and I've got to tell you that I love it! Makes normal typing so much simpler. I was concerned that the HTML snippets would conflict with what Dreamweaver already does. It doesn't. I can automatically expand bits of code that I've had to hammer out character by character. This saves so much time! Thanks so much for this product.

Carl Peterson

Web Designer from Dallas, TX, USA

I translate computer books (mostly those …for Dummies) which use a lot of special terms and terminology. Many of them are difficult to type and hard to remember. If I actually had to type them, it would take me for ages and my manuscript would still be full of typos and mistakes. Since I started delegating that pesky task to Typinator, the program has literally saved me days if not weeks of work.

Claus-Jürgern Kocka

Nürnberg, Germany

I would be unable to reply to the 300 emails I answer daily without a smart expansion program like Typinator, which helps speed my personal replies. I type "tfyn" and the words "Thanks for your note" splash into the email template. I love the way Typinator works, and the way it syncs with my laptop via Dropbox – a match made in heaven!

Jim White

Winemaker & Writer from Napa, CA, USA

Typinator is the ***best*** utility I have purchased in a very long time. I tested a couple of other products before purchasing yours and found that they were not always 100% solid. Typinator, on the other hand is as solid as a rock. I have not had a single issue and have had it running continuously since I purchased it. Running a support desk, having to type up similar responses to the same questions asked frequently, Typinator has been a fantastic find for me. Doing lots of html coding recently on a long project was simplified greatly by your software. And QuickSearch makes Typinator even more powerful!
Did you already download the Typinator app?
Try Typinator now and find out why so many users find it indispensable.